Personalised Baby Comforters
Our personalised baby comforters make great birth gifts and can also be given to toddlers 2 and 3 years old. Most little ones will get many years use from their comforters and some will be able to start reading their embroidered names once they get a little older.
Soft and cuddly, our baby comforters are ideal as newborn baby gifts. They will be loved for many years and often adored by toddlers and older children. Each comforter is personalised by having a baby's name embroidered on it.
We now have six different comforters to choose from. Our Personalised Grey Bunny Baby Comforter is now available again. Simply select the text colour to suit either a boy or a girl. Our Personalised Giraffe Baby Comforter and Personalised Puppy Baby Comforter are two other unisex options. They both look good with text colours for boys or girls. Our comforters are also included many of our gift boxes. Beautiful two piece sets like Personalised Pink Knitted Blanket & Bunny Comforter Baby Gift Box also include our warm knitted blankets. Two pieces that will get endless use.
In the above photo is our Personalised Pink Knitted Blanket & Bunny Comforter Baby Gift Box. A bunny comforter with an elegant pink knitted blanket. In one gift box and embroidered with your baby name.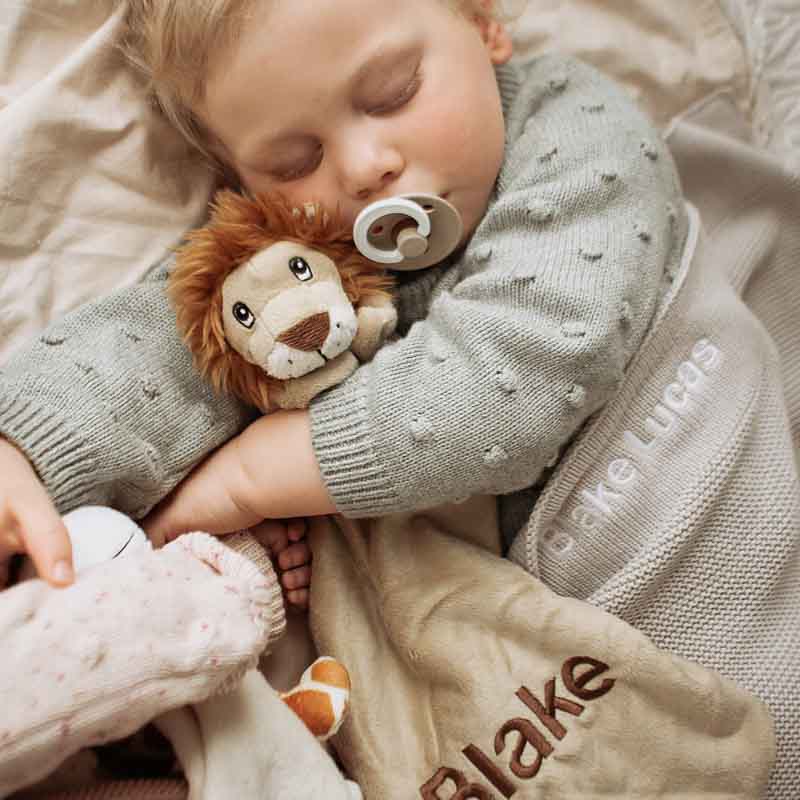 Newborn Baby Gifts
All our baby comforters are excellent Newborn baby gifts, they are practical and also make fantastic keepsakes. The difference with giving a comforter is that they will get prolonged use for many years as the child grows. No baby gift will be used more. These are items that will truly be cherished for many years to come.
The image above shows baby Blake cuddling his Personalised Lion Baby Comforter. His name is embroidered with brown text and using our micro block font. Blake is also laying under a Personalised Light Grey Knitted Blanket personalised with his name. You'll find many of our two piece sets include comforters to cuddle and a lovely knitted blanket to keep warm.
You'll find comforters as well as comforter gifts boxes in this category. Our gift boxes include comforters along with baby shoes and personalised baby blankets giving a variety of items that baby is sure to love.
As some children will keep their comforter until they are ready to start school, they make a wonderful gift for first, second or even third birthdays. The personalisation will make it a unique gift that both children and adults will treasure.
When you order a comforter, you can choose the colour and style of the text and pick exactly what it will say. Your chosen words will be embroidered before it's carefully packed into a gift box and despatched to you.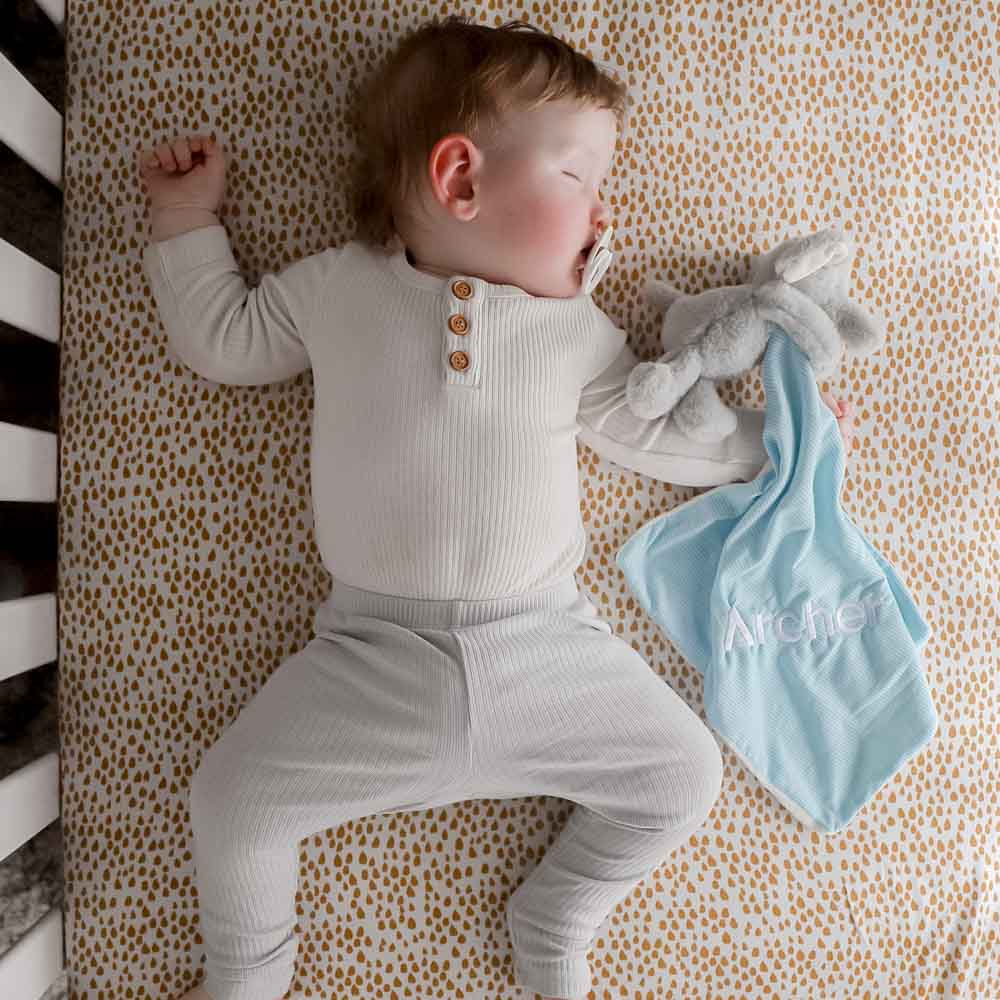 Baby Comforters
The photo shows baby Archer sleeping with his Personalised Elephant Baby Comforter. The elephant is embroidered in white with the micro block font making a super adorable gift. The elephant is also included with a pair baby shoes in one of many Newborn baby gifts. This adorable elephant is also included with a Personalised White Hooded Towel. They combine to make the Elephant Comforter & Hooded Towel Baby Gift Box. A comforter to cuddle with and a practical towel for bath time.
You can read our customer reviews here on Facebook or here on Google reviews. You can also make your own reviews on both on both Facebook and Google Reviews.
Product care: Our baby comforters are machine washable at 30 degrees. Do not tumble dry. All products are labelled with detailed washing instructions.
Baby's safety is our priority, and all our comforters and baby toys meet the required AS/NZS standards. They are labelled with the CE logo, so you can be sure of their safety.