Personalised Baby Shoes
Our white baby shoes size 12 – 18 months are out of stock. The new stock is due to arrive the end of September. We're very sorry for the inconvenience.
Even before a baby can walk, the list of baby gift ideas that most people consider includes a pair of shoes. What could be cuter than a pair of personalised baby shoes?
Our range includes 5 different colours to choose from. For boys our Personalised Navy Blue Baby Shoes (shown in the image above) are very popular and they look great with a pair of trouser or shorts. Our Personalised Sand Baby Shoesare an excellent unisex option. For girls, our Personalised Pink Baby Shoes with pink or white coloured text. All 5 colours make adorable baby gifts.
Our shoes are embroidered with the name you choose. But that isn't as simple as it sounds. These shoes are very small, and due to the complexity of the embroidery process, very few companies are able to do it – we can!
Our range of personalised baby shoes are suitable to be given as newborn gifts all the way up to one year old's. Simply order a pair and choose the colour and style of the text you want. Type in what you want it to say, it's that easy.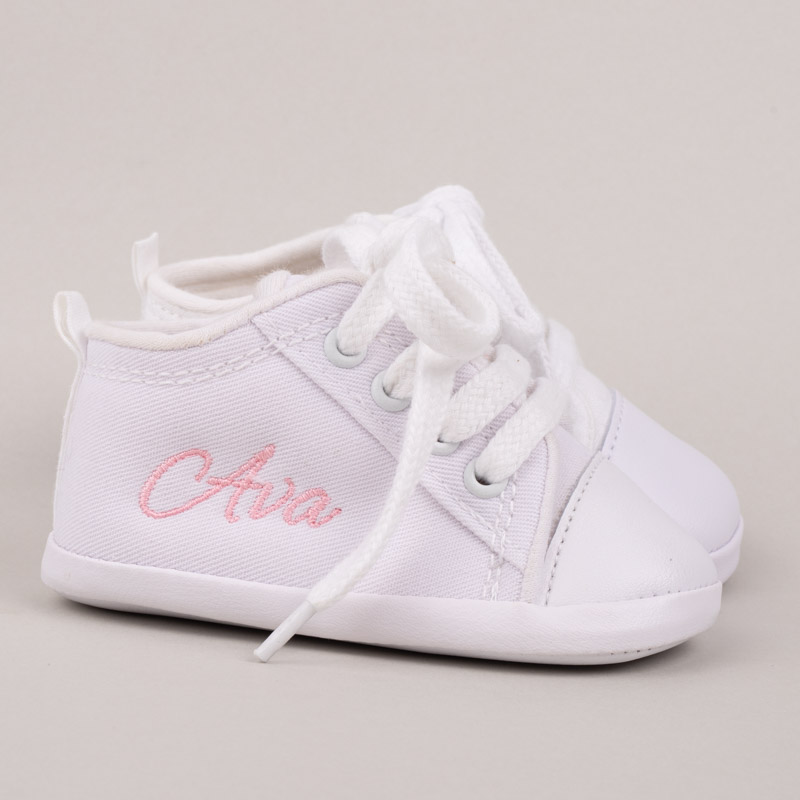 Soft Soled Baby Shoes
Our shoes are soft soled and are designed for a baby taking their first steps and learning to walk. It's very important that baby's learning to walk are wearing a soft soled shoe or no shoes at all. There is more information here on the Better Health Vic page.
The shoes shown about is a Personalised White Baby Shoes personalised in pink text with the name Ava. The font used is alex brush. We offer four fonts so please choose the font carefully and make sure you're happy with how the name looks.
Our shoes are included in many of our gift boxes. Some of the most popular gift boxes include our knitted blankets combined with our personalised shoes. The Personalised Grey Knitted Blanket & Pink Shoes Baby Gift Box is an adorable gift for a baby girl. It includes our pink shoes with beautiful grey knitted blanket. For boys the Personalised Blue Knitted Blanket & Navy Shoes Baby Gift Box has been a favourite during both summer and winter. Beautiful blankets together with super cute shoes and in one gift box.
Please read our Facebook reviews here.
Baby Shoes with Embroidery
Shown in the above photo are two pairs of our Personalised Pink Baby Shoes. Each of the these stylish shoes is personalised on the outside of the shoe which is not shown in the photo. All our shoes are delivered in beautiful gift box ready to be given. These shoes are included with a comforter in our White Bunny Comforter & Pink Shoes Baby Gift Box. Two very popular items that will both be well used and adored.
We are now in spring but our warm Personalised White Fleece Blanket will still get a lot of use during the cold evenings and morning. Our Navy Blue Shoes & Fleece blanket Baby Gift box includes this blanket with a pair of baby shoes. Another option is the Personalised Forest Minky Blanket & Navy Blue Baby Shoes which includes our double layered forest minky blanket. Both these blankets can be personalised with two lines of text if you'd like to add a baby's date of birth also.
Each shoe can be embroidered with up to 10 characters but we recommend making the text as short as possible. Shorter names will always look better.
The shoes come in three different sizes. 0-6 months when they make a great fashion accessory to almost any outfit. 6-12 months which is the size most babies will wear when taking their first steps. 12-18 months which bigger babies will be wearing when they start to walk and other babies will be running.
Product care: All our shoes are for gentle hand washing only. Do NOT machine wash.