Personalised Baby Blankets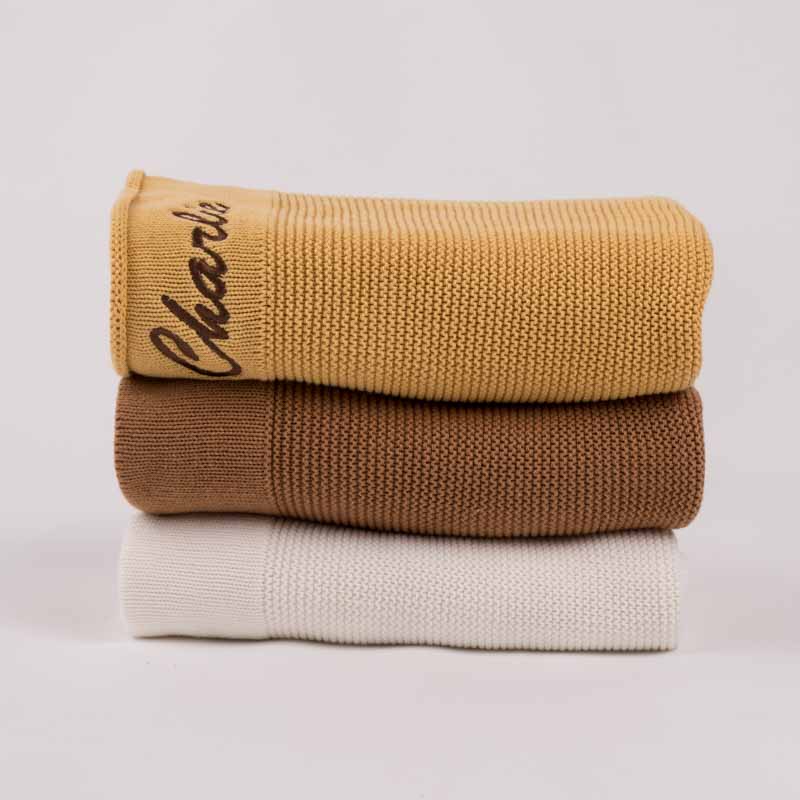 Personalised Blankets For Babies
Our brown & beige knitted blankets are out of stock. Unfortunately the new stock is not due to arrive until the start of October. We're very sorry for the delay but please note that we do have 9 colours of knitted blankets to choose from.
Our range of beautiful personalised baby blankets includes many options for colder days and they all make unique baby presents. Our knitted baby blankets are now available in 11 different colours and are ideal for the colder days we're having now. They also allow the air to pass through meaning the baby won't easily over heat when sleeping under one. You can now add up to 18 characters on these blankets allowing for longer names to be embroidered. They are very high quality and you can expect to get extended daily use from them.
The photos above shows three of our knitted blankets folded and stacked. The blanket on top is a Personalised Yellow Mustard Knitted Blanket personalised with the name Charlie. The font used is brush script and the text colour brown. The blanket in the middle is a Personalised Brown Knitted Blanket. The blanket on the bottom a Personalised White Knitted Blanket. All are 100 x 75 cm, are high quality and designed to last.
Many of our knitted blankets are used in many of our larger gift boxes. Our
Personalised Grey Knitted Blanket & Grey Bunny Comforter Baby Gift Box includes our Personalised Grey Bunny Baby Comforter. Also in the box is a Personalised Grey Knitted Blanket. Both items will be embroidered with your baby name in the colour of your choice.
New Personalised Baby's Minky Blanket
Our new Personalised Rainbow & Heart Minky Blanket is now available. This is a two layered polyester blanket which is perfect for keeping babies warm on colder days. It also allows two lines of text with up to 17 characters on each line. It has a beautiful heart and rainbow print on one side and white minky dots on the other. Like all our products this blanket will be delivery in a gift box.
Personalised Baby Wraps
Our personalised baby wraps are another popular baby gift idea. Spring is here and summer is not far away. There wraps will get even more use with the warmer weather. They're ideal for swaddling, covering a pram, nursing and many other uses that parents will discover. The wraps are available to order by themselves or in a gift box with other items. The above image is our Personalised Pink Muslin Wrap & Bunny Baby Comforter gift box. Both items can be personalised. The muslin wrap has space for two lines of text so you can add a date of birth if you wish and the comforter allows just one line of text.
If you're looking for some brighter colours please see our Personalised Yellow Mustard Muslin Wrap & Lion Baby Comforter. This includes our Personalised Lion Baby Comforter with a bright Personalised Yellow Mustard Organic Muslin Wrap. Perfect for both boys and girls.
Every item you purchase will be delivered in an attractive gift box, and if you order more than one item using the same baby name, we'll pack them together in a larger gift box for you.
If you'd like to read or make a review of our personalised baby blankets or personalised baby wraps please click here to for  Google reviews and here for Facebook reviews.
Our knitted blankets have been featured on mumsgrapevine.com.au so you can compare our great quality blankets to other personalised baby blankets.
We designed our knitted blankets so they can be personalised across the top band with embroidery. Unfortunately some competitors have chosen to try and copy our blankets. These copies are lower in quality and much higher in price, please ensure that you and your friends are buying the original One Little Day knitted blanket.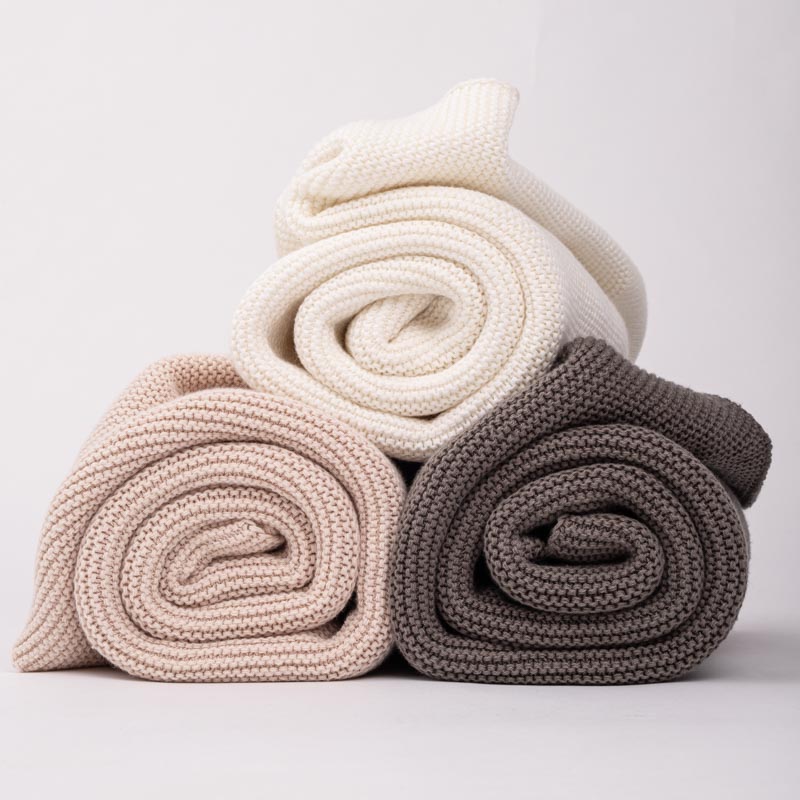 Knitted Cotton Baby Blankets
The photo shows three of our beautiful knitted cotton baby blankets. On top is our Personalised White Knitted Blanket. Then on the left is our Personalised Beige Knitted Blanket and the right Personalised Olive Green Knitted Blanket. These blankets are also included in two piece gift boxes. Like the Personalised White Knitted Blanket & Puppy Comforter Baby Gift Box which also includes an lovable Personalised Puppy Baby Comforter.
We now also have 3 different personalised baby robes that are available in sizes 1-2 and 2-3 years. All are made from high quality 400 GSM cotton towelling to keep a little one dry and warm.  Our white robe with white edging is in the Personalised White Hooded Robe & Bunny Comforter Baby Gift Box. The is a perfect combination for 1st or 2nd birthdays. Bigger little ones will still get plenty of cuddles from the White Bunny Baby Comforter. Our Pink Gingham Hooded Robe is a cute popular option for baby girls. This robe is also available with a comforter in the Pink Gingham Hooded Robe & Bunny Comforter Baby Gift Box.
We also offer a Personalised White Hooded Towel which is made from the same high quality 400GSM toweling. These towels can be given as birth gifts and used to dry new babies. They're durable, designed for daily use and they make a unique personalised gift. Our Bunny Comforter & Hooded Towel Baby Gift Box is perfect for baby girls. Along with the towel you'll receive a snuggly bunny comforter.
Blanket Care & Washing
All blankets are machine washable at a warm temperature (30 degrees). Do not tumble dry the knitted blankets. All blankets and towels are design for prolonged daily use. For gift boxes that includes shoes please note that the shoes are hand wash only. All products are labelled with washing instructions and are designed for Australian conditions.