Personalised Baby Blankets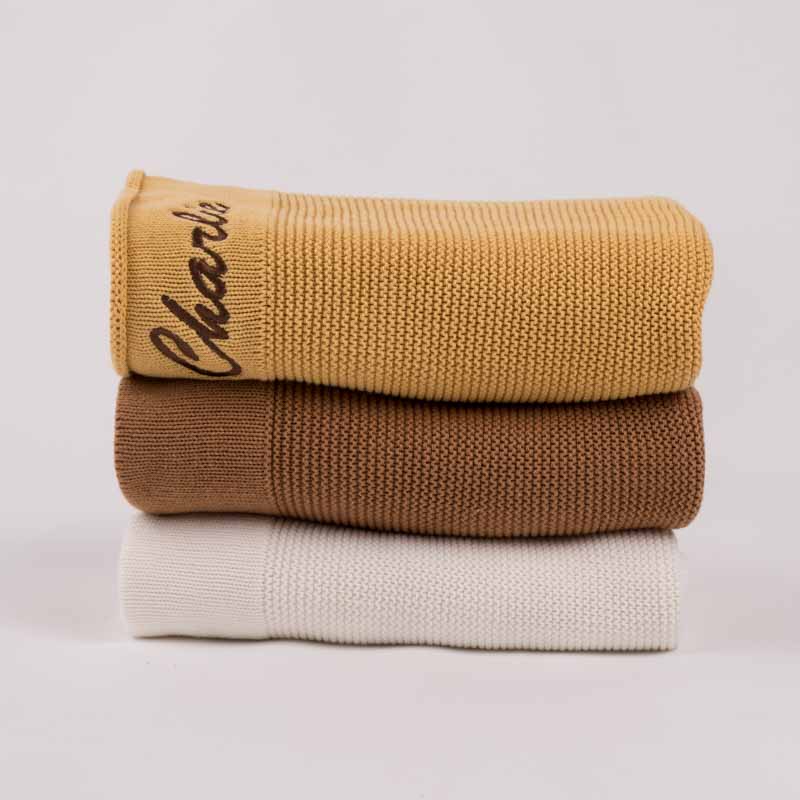 Personalised Blankets For Babies
Unfortunately our white hooded towel is also out of stock but the new stock is due in the at the end of November.
Our range of beautiful personalised baby blankets includes many options for colder days and they all make unique baby presents. Our knitted baby blankets are now available in 11 different colours and are ideal for all seasons. They allow the air to pass through meaning the baby won't easily over heat when sleeping under one. You can now add up to 18 characters on these blankets allowing for longer names to be embroidered. They are very high quality and you can expect to get extended daily use from them.
The photos above shows three of our knitted blankets folded and stacked. The blanket on top is a Personalised Yellow Mustard Knitted Blanket personalised with the name Charlie. The font used is brush script and the text colour brown. The blanket in the middle is a Personalised Brown Knitted Blanket. The blanket on the bottom a Personalised White Knitted Blanket. All are 100 x 75 cm, are high quality and designed to last.
Our knitted blankets are used in many of our gift boxes. See our popular Personalised Beige Knitted Blanket & Giraffe Comforter Baby Gift Box which includes a giraffe comforter. Or the Personalised Beige Knitted Blanket & Shoes Baby Gift Box.
Read Our Reviews Here
We aim to offer the best service and products possible and we are always trying to improve what we do. Please take some time to read what I customers think of our products and service. Our reviews have been collected here on Reviews.io, or Facebook reviews and lastly Google reviews. Our aim is for everyone to be happy 🙂
Personalised Muslin Wraps
We now have a range of seven different colours in our personalised muslin wraps. These are perfect for the warmer months and will get daily use. Uses include covering prams, swaddling, nursing and creating shade from the sun. An ideal baby accessory for any new parent and truly adorable with a baby name embroidered.
The Ocean Blue Knitted Blanket & Yellow Mustard Muslin Wrap Gift Box is shown in the above photo. Included is a bright Personalised Yellow Mustard Organic Muslin Wrap which is an extra large 120 x 120cm and embroidered with two lines of text. Also included is an ocean blue knitted blanket. Both packed together in a gift box.
Our Personalised Yellow Mustard Organic Muslin Wrap is also included with a knitted blanket in the Ocean Blue Knitted Blanket & Yellow Mustard Muslin Wrap Gift Box. A nice bright wrap with a warm knitted blanket.
Every item you purchase will be delivered in an attractive gift box, and if you order more than one item using the same baby name, we'll pack them together in a larger gift box for you.
If you'd like to read or make a review of our personalised baby blankets or personalised baby wraps please click here to for  Google reviews and here for Facebook reviews.
We designed our knitted blankets so they can be personalised across the top band with embroidery. Unfortunately some competitors have chosen to try and copy our blankets. These copies are lower in quality and much higher in price, please ensure that you are buying the original One Little Day knitted blanket.
New Knitted Cotton Baby Blankets
Shown above is our new Personalised Brown Diamond Knitted Blanket. We also have two other colours, a Personalised Cream Diamond Knitted Blanket and a Personalised Beige Diamond Knitted Blanket. It's a much thicker and heavier blanket than our other knitted blankets. The large stitches allow the air to flow through will still keeping a baby warm. The blankets can be embroidered with up to 18 characters allowing for longer baby names. These blanket are only available with our script fonts so please ensure that you can read the baby name clearly before ordering. All blankets will be packed in a gift box and delivered Australia wide.
We now also have 3 different personalised baby robes that are available in sizes 1-2 and 2-3 years. All are made from high quality 400 GSM cotton towelling to keep a little one dry and warm.  Our white robe with white edging is in the Personalised White Hooded Robe & Bunny Comforter Baby Gift Box. The is a perfect combination for 1st or 2nd birthdays. Bigger little ones will still get plenty of cuddles from the White Bunny Baby Comforter. For boys we have our Blue Gingham Hooded Robe which includes space for up to 10 characters to be personalised.
Blanket Care & Washing
All blankets are machine washable at a warm temperature (30 degrees). Do not tumble dry the knitted blankets. All blankets and towels are design for prolonged daily use. For gift boxes that includes shoes please note that the shoes are hand wash only. All products are labelled with washing instructions and are designed for Australian conditions.