Personalised Baby Gift Boxes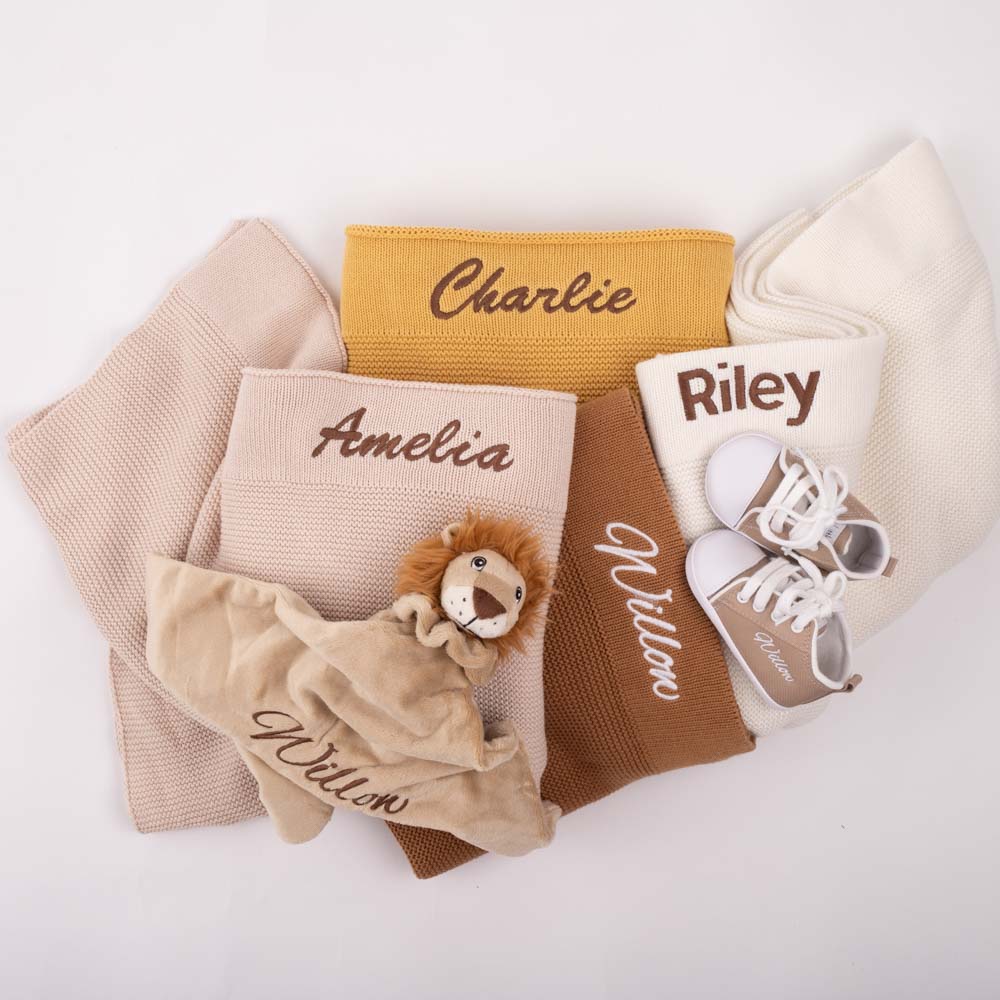 Personalised Baby Gift Boxes
Personalised baby gift boxes are the perfect choice for any baby as they are unique, just like a baby. We've taken our most popular items for both boys and girls and combined them into these beautiful baby gift boxes.
Order one of our Personalised baby gift boxes by selecting from the standard options above. Our 4-piece Beige Knitted Blanket Baby Gift Box contains the two items shown in the above photo. Included are a warm Personalised Beige Knitted Blanket, a useful muslin wrap, a cuddly comforter and a stylish pair of Personalised Sand Baby Shoes to make a adorable baby gift.
Also in the photo is a Personalised Yellow Mustard Knitted Blanket with the name Charlie in brown text using the brush script font. A beige knitted blanket embroidered with the name Amelia using the brush script font. In addition, this blanket is used in the Personalised Beige Knitted Blanket & Giraffe Comforter Baby Gift Box. Lastly on the right, a Personalised White Knitted Blanket with the name Riley using the micro block font. All these blankets are included in larger gift boxes shown above.
There are gift box ideas for all budgets and tastes. If you can't find exactly what you want, you can create your own personalised baby gift box. Simply order two or more items using the same baby name and we'll pack them all in one large gift box. Creating personalised baby hampers is quick and easy.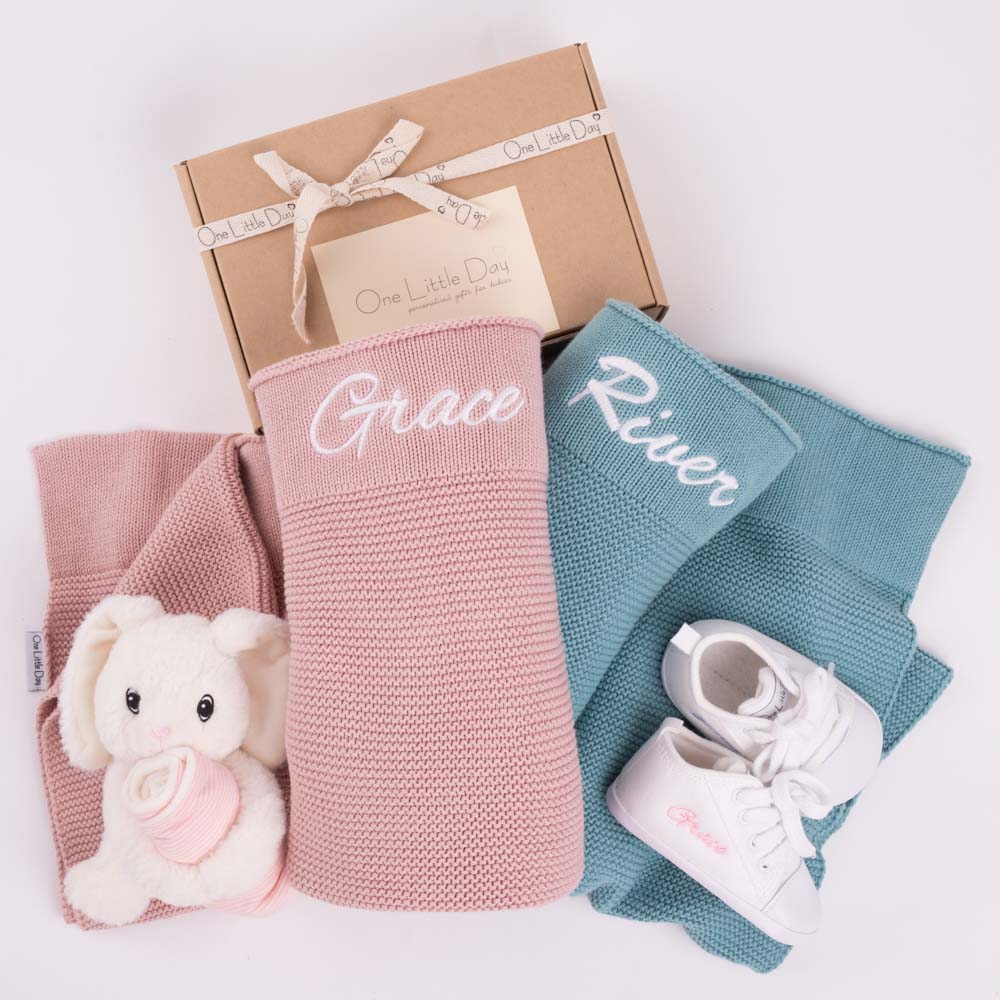 Personalised Baby Hampers
Our beautiful gifts are delivered in a free gift box, your baby hamper is sure to put a smile on the faces of the whole family. Browse the selection until you find what you need, and if you have any questions, please just ask.
Shown in the above photo on the left is a Personalised White Bunny Baby Comforter and Personalised Blush Pink Knitted Blanket. The knitted blanket is personalised with the name Grace in white using the alex brush font. Both these items are combined together in the Personalised Blush Pink Knitted Blanket & Bunny Comforter Baby Gift Box. A beautiful warm blanket and a comforter to cuddle with.
Also shown in the photo is a Personalised Ocean Blue Knitted Blanket personalised with the name River. The font used is brush script and the text colour is white. One of our gift boxes and a pair of Personalised White Baby Shoes are also shown.
Personalised Hampers for Babies
Our personalised baby hampers can be used as baby shower gifts. If you don't know the name of the baby then you can use Baby and then the family name. Our muslin wraps are perfect for this as they allow two lines of text.  A larger set including our Personalised Dark Pink Organic Muslin Wrap is the Personalised Blush Pink Knitted, Dark Pink Wrap & White Shoes Baby Gift Box. But please note that longer names will most likely be too long for the gift boxes that include shoes (max 10 characters). Our baby shoes always look better with shorter or single word names.
Orders are personalised and shipped in 1 to 2 business days with standard shipping. Express orders are sent the same business day if ordered before 11am (AEST). Express delivery will take 1 to 2 business days into the main cities (delays are possible due to lockdowns). For full delivery details please see our Shipping Info page.
Product Care & Washing
Most of our products can be machine washed at a warm temperature (30 degrees). All products have detailed washing instructions attached so please read carefully. Some items can't be tumbled dried. Please note our baby shoes are hand wash only.
The above photo shows our simple but elegant Personalised Grey Knitted Blanket & Elephant Comforter Baby Gift Box. This set includes a Personalised Grey Knitted Blanket and a super cute Personalised Elephant Baby Comforter. Both items will be packed together in one gift box and then shipped in anywhere in Australia.
For a winter gift box option please see our Personalised Forest Minky Blanket & Giraffe Baby Comforter which includes our double layered minky blanket and a Personalised Giraffe Baby Comforter. Our Personalised White Fleece Blanket is also ideal for winter. The Lion Comforter & Fleece Blanket Baby Gift Box can be given to either a baby girl or boy. It includes our warm fleece blanket with Personalised Lion Baby Comforter.
Please note that if you're sending directly to a friend or family we do not send any price information. Remember to include a gift card message and to add who the gift is from. You can find this area on the checkout page under number 2 – Shipping information.
Customer Reviews: If you'd like to know what other customers think please read our Facebook reviews or our Google reviews. If you'd like to make your own review please do so on one these platforms.